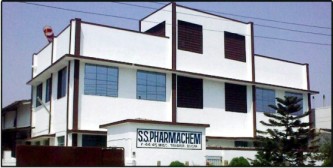 S.S. PHARMACHEM is a professionally managed Bulk Drug & Chemical manufacturing unit headed by 
MR. SAGAR S. SANGEKAR
MR. SANJAY S. SANGEKAR

Established in 1987 & committed to development of import substitutes. S.S. PHARMACHEM has evolved into highly organized concern comprising of a sophisticated manufacturing complex at Tarapur (Maharashtra).

Our Specialized product range has been well accepted by Indian as well as multinational companies. We also export our products to various countries.

Our List of Customer include many customers all over the world  in U.S.A, EUROPE, CANADA, SINGAPORE, TAIWAN, THAILAND, EGYPT, JORDAN, OMAN, NEPAL, PAKISTAN etc.....
Also some of our local customers are multinationals  like JOHNSON & JOHNSON, CIPLA, IPCA, INDOCO REMIDIES, AJANTA PHARMA, SHASUN CHEMICALS and many more. 

Our manufacturing facility has been Audited by companies  like JOHNSON & JOHNSON, ABBOTT, IPCA, CIPLA, DR.REDDYS, SHASUN CHEMICALS and also  some of our  foreign buyers such as SANDOZ CANADA.

One of our main products is Diphenhydramine Hcl, Diethyl Carbamazine Citrate, Ambroxol Hcl, Mephenesin, Dimenhydrinate, Maleic Acid. Please also  see our attached product List for our entire product range and monthly capacity.
Status of Company

:

Manufacturer.

 

Registered Office

:

HUBTOWN SUNMIST A-502,
N.S.PHADKE MARG, TELLI GALLI,
ANDHERI-E, MUMBAI-400069,
MAHARASHTRA, INDIA.
 

Factory / Administrative Office

:

K/44/45, M.I.D.C. Tarapur, Boisar, Dist. Thane - 401 506, Maharashtra. INDIA.

 

Name of the Partners

:

Mr. Sagar S. Sangekar.
Mr. Sanjay S. Sangekar.
 

Contact Nos.

| | | |
| --- | --- | --- |
| Factory | : | +91 02525-654243/661281 |
| Reg. Office | : | 022-26823958 (Telefax) |

 

E-Mail

:

accounts@sspharmachem.com
sales@sspharmachem.com
purchase@sspharmachem.com
saanz2002@yahoo.co.uk